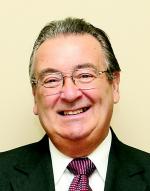 James G. Coakley, Licensed Director
Email: wall@obrienfuneralhome.com
Website: www.obrienfuneralhome.com
Office Phone: (732) 449-6900
Fax: (732)449-6905

Having worked at many great funeral firms throughout the state, Jim brings with him years of experience. He has garnered much praise throughout his career, and in 1995 became a Certified Funeral Service Practitioner.
Jim has an amazing connection to his community. He served on the Manasquan Planning Board for ten years and has been a member of the Manasquan First Aid Squad since 1996. He is the Immediate Past President of the Rotary Club (Spring Lake-Brielle) and now serves on the Board of Trustees. He is also former president of the Manasquan Chamber of Commerce and a member of Elks Lodge 2534.
He is a longtime parishioner of St. Denis Church, Manasquan where he is the Chairman of the Bishop's Appeal and a member of the Church Renovation Committee. He was elevated to an Equestrian Knight of the Holy Sepulcher of Jerusalem by Cardinal Edward Egan in 2001 and promoted to the rank of Knight Commander with Star in 2007. He is the Chancellor of Knights of Columbus, Council 3231 and former Grand Knight, District Deputy, Ocean County Chapter Chairman, and member of the Msgr. Baldwin Fourth Degree Assembly.
The Coast Star profiled Jim in the "PEOPLE" section in their June 30, 2005 edition.