Selecting the right urn to store the remains of loved one is a deeply personal decision. The type of urn, material, and style are all dependent upon what your family plans to do with the remains. Our large selection of affordable urns can be found by browsing through our online funeral cremation urn store powered by Memorial Store. For families looking to a buy a cremation urn online, this tool will allow you to browse through our large selection of affordable cremation urns for ashes, cremation jewelry, and keepsakes.
Buy a Cremation Urn Online
Once you have entered the store, you will be able to view different categories and filter results to show you the specific products you are looking for. By clicking on the product you are interested in, you will be able to view a gallery of images, check stock availability, see the price, check the dimensions and much more. Purchasing a product is simple and uses a secure portal to process the transaction and provide customers with peace of mind.
Each of the products we offer are constructed from high-quality and durable materials that are built to last. With hundreds of items to choose from, we are confident you will find the perfect product that pays tribute to your loved one and can be proudly displayed in your home.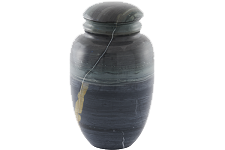 For more information about the cremation products we offer or assistance with making a purchase, please contact us today to speak with a member of our staff.